Be the first to read my newest All-22 posts by following me on Twitter @All22ChalkTalk Thanks!!!!!
Continue reading All 22 Film Breakdowns: Packaging "Coverage Beaters" to Beat Man or Zone Defenses →
Mark Richt has run a highly successful shallow cross series since his days as Florida State's offensive coordinator in the mid-late 90's.  He brought the play to Georgia and continues to run it to this day.  I love the play concept; I REALLY hope Flip brings it with him.
Here's a diagram of the play straight from FSU's playbook: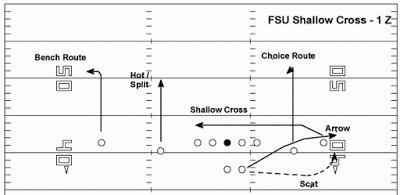 Click here for a look at some All 22 film of the concept.  You'll also see Richt's Y-Corner, Y-Stick, and Sail concepts.
Continue reading Previewing Flip's Offense: The Shallow Cross with a Twist →